Loads of visitors have already stopped by our booth in Halle 6.1 (B21) of Cologne's Koelnmesse since gamescom opened its doors to the public on Thursday, and they certainly haven't been disappointed! Not only have they garnered some fantastic goodies, but they've also been epically entertained in true Blizzard style.

Today was the third public day of the event, the highlight of which had to be the Blizzard Costume Contest. A total of 18 contestants roused the crowd with incredibly creative depictions of their favorite Blizzard characters, including a demon hunter from Diablo III, a nightelf druid, Leah from Diablo III, pandaran monch, Sylvanas Windrunner, a troll mage, a wizard from Diablo III, and a goblin hunter. But Svetlana Quindt from Nuernberg, Germany dressed as a barbarian from Diablo III really impressed our judges, taking first place. She worked on the costume for 1.5 years and has a blog where she shows the progress: http://www.kamuicosplay.com/2012/07/armor-armor-and-even-more-armor.html.
Svetlana went home with some amazing prizes from our partners: an XMG P502 PRO Gaming Notebook by Schenker, a SteelSeries Diablo® III Mouse, a SteelSeries 7G keyboard, a SteelSeries QcK Diablo® III Edition mouse pad, a SteelSeries Diablo® III Headset, and a Mega Bloks Deathwing's Stormwind Assault set.
You can still participate in our World of Warcraft Dance Contest tomorrow at 14:30, for the chance to win an NVIDIA GeForce GTX 6 Series graphics card, a Mega Bloks Goblin Zeppelin Ambush set, and some SteelSeries gaming gear.

We also saw an intense StarCraft II show match today, shoutcasted by HomerJ. In this close match, White Ra beat Feast. We'll have another exciting show match tomorrow at 13:00.

To round-out our eSports activities today, we also hosted our first World of Warcraft Live Raid. The crowd watched as members of the international hardcore raiding guild Method battled the main Cataclysm raid bosses, followed by an awesome PvP fight among guild members.
You can check out tomorrow's live raid at 10:30, as members of the elite German raiding guild For The Horde complete the Dragon Soul raid in 25-man Heroic mode.

In addition to our costume contest and eSports activities, Blizzard artist Grace Liu showed off her talent once more during a live drawing session, where she created a stunning image of the Butcher from Diablo III. If you've missed her work, she'll be back again once last time tomorrow at 12:00.

Grace was also there with fellow Blizzard developers John Lagrave, Ion Hazzikostas, David Kim, and Kaeo Milker for a final signing session at our booth. Just before the signing session, we saw our final Blizzard orchestral performance of gamescom. The crowd was treated to songs from all three of our franchises played by an eight-piece orchestra.

We'd like to thank everyone who's stopped by our booth so far, but gamescom isn't over yet! In addition to tomorrow's activities mentioned above, you won't want to miss the 2012 European World of Warcraft Invitational, where Europe's best arena teams will battle it out. If you can't make it to gamescom in person, you can watch the live stream of the tournament online. Just click on the image below for details.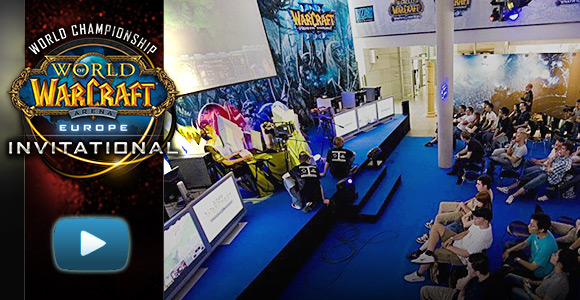 Visit the activities page for tomorrow's full lineup, and see some updated pictures in our photo gallery.

We hope to see you tomorrow on the last day of gamescom 2012!