Every week this summer, we're challenging you to get together with a few friends to explore a part of Azeroth that you may not have seen in a while, or perform a feat that you may have never done. We're calling them World of Warcraft Summer Challenges, and we're going to be playing along with you as we hunt down rare achievements, get screenshots of amazing bosses, and try to find some rare gear for our transmogrification sets.
This week's challenge is: Karazhan.
Medivh, the Last Guardian, made his home in Deadwind Pass, in the bright tower of Karazhan. Though he was the greatest wizard of his day (and humanity's intended custodian) Medivh was secretly possessed by the dark spirit of Sargeras, the Destroyer of Worlds. Through Medivh, Sargeras opened the Dark Portal and allowed the orcs to wage war upon the kingdoms of Azeroth.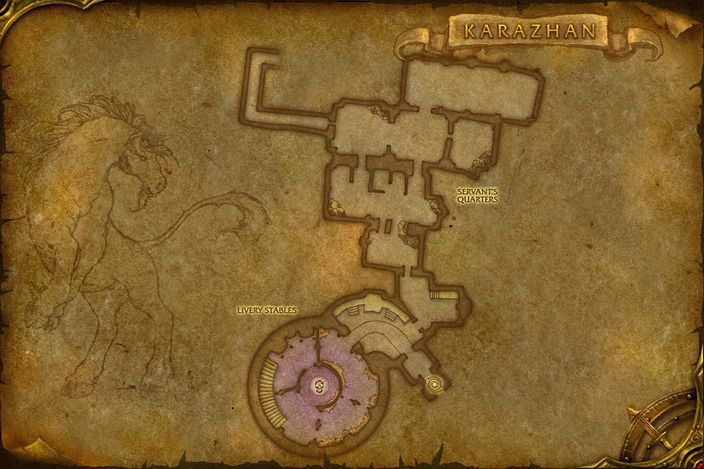 Originally opened for raids of 10 players at level 70, Karazhan is teeming with a dozen bosses, many with unique events, ending with Prince Malchezaar. There are a number of reasons to explore Azeroth's original haunted castle.
Notable achievements
Desirable gear
Other odds and ends
As the war progressed, Medivh fought against Sargeras' control. The raging conflict within him finally drove the wizard irrevocably insane, until his childhood friend, Anduin Lothar, aided Medivh's young apprentice, Khadgar in storming Karazhan and slaying their former comrade. Since that day, a terrible curse has pervaded both the tower and the lands around it - casting a dark pall over Deadwind Pass and the region that is now known as Duskwood.
Please join us in this discussion thread, where we're talking about this week's challenge, and looking forward to your stories about how it went for you this week, your screenshots, and your suggestions for other fun reasons to take on Karazhan