Thirsty for more adventure? You can now find the latest chapter of Li Li's Travel Journal in the Destination: Pandaria section of the World of Warcraft website.
Following the trials and tribulations of getting her pet bandicoon's temperament under control, Li Li ventures into the mystical Vale of Eternal Blossoms. For thousands of years, the vale has been sealed off from the rest of Pandaria, and it is only very recently that adventurers can travel freely to the former seat of the Mogu Empire. Of course, Li Li wouldn't be much of an explorer if she passed up this opportunity to visit such a strange and mysterious place, now would she?
Read Chapter 9: The Vale of Eternal Blossoms now!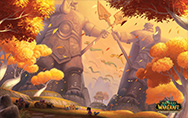 Download the new wallpaper now!