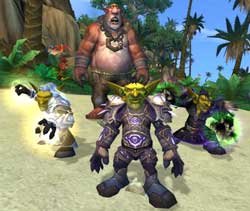 When Cataclysm launches in 2010, the Horde will be gaining their very own shorter than average class of crafty, intelligent creatures in the form of the Goblins. The shift from a largely neutral race that has been in the game from day one as a group of traveling merchants to a more active, combat oriented race has many players eager to learn about the lore behind the Goblins joining the Horde.
What ultimately pushes the Goblins into the arms of the Horde is the upheaval of their island homes by the return of Deathwing and the Cataclysmic events that force them to the Lost Isles. While the playable Goblins will only represent one faction of the race (other Goblins will remain in cities like Gadgetzan), they will not be the same, little green guys everyone knows and loves.
The Classes
The Goblin race will start the game with access to eight classes, including all but the Druid and the Paladin. The complete list of available classes includes:
Death Knight
Hunter
Mage
Priest
Rogue
Shaman
Warlock
Warrior
Additionally, Blizzard has confirmed that they are going to be going out of their way to revamp and beef up character models for Goblins so they look a bit more personalized and menacing in combat than current models do.