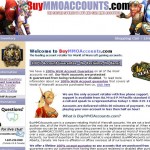 BuyMMOAccounts.com is a company retailing virtual goods, primarily World of Warcraft accounts. BuyMMOAccounts.com is not a broker, this not an auction site, all of the accounts listed on the web site they have ownership of. When making a purchase you can be assured you are making payment to a legitimate company and not from a private seller. They have been retailing highly secured accounts to customers for over a year, their level of expertise in the account market is unparalleled. BuyMMOAccounts.com is located in Alberta, Canada. They have no affiliation with any other companies or World of Warcraft account retailers, they have NO overseas offices, their company is based out of Canada, they do not use overseas employment whatsoever.
Account security and peace of mind is always important when you are playing on a World of World of Warcraft Security GuaranteeWarcraft account that you are not the original owner of.
The main concern when you purchase wow character is having your account reclaimed or disabled. When making a purchase from BuyMMOACCOUNTS.com you are provided with the confirmed Full Name, Secret Answer and Email for the account you are buying, these are the most important pieces of information to claiming ownership of a new account.
There is no way to prevent any World of Warcraft account from being reclaimed. The only steps that can be done are preventative steps that they take to provide the highest level of security in the industry. They can confidently advertise that the accounts listed on their web site are the most secure and safe World of Warcraft accounts currently available on the internet.
BuyMMOAccounts.com has the lowest reclaim rate in the industry with a reclaim rate of 1.2% of accounts sold ever being reclaimed. They have a 95% success rate of returning compromised or reclaimed accounts back to the customer.